A new climate for planning in Ontario
The first half of 2016 has been marked by unprecedented progress and a major paradigm shift on behalf of the Province towards increasing Ontario's climate change resiliency.  The most transformative and sweeping changes stem from the Ontario Climate Change Action Plan, adopted in June 2016.  Through this Plan, the Province has committed up to $8.3 billion in new programs to address climate change and has introduced a crucial new cap-and-trade program along with an ambitious target of an 80% reduction in greenhouse gases by 2050.*
In Ontario, the heaviest contributors of greenhouse gas emissions include the transportation (35% of total contribution), industrial (28%), and building (19%) sectors.  Recognizing the relationship between each of these sectors and land use planning, the Province has proposed amendments to each of their four major land use planning policy documents that focus on adapting to the impacts of climate change and achieving reductions in greenhouse gases.  These four plans include the Growth Plan for the Greater Golden Horseshoe, the Greenbelt Plan, the Oak Ridges Moraine Conservation Plan, and the Niagara Escarpment Plan.
What is perhaps most impressive about the proposed updates to each of the four plans is the Province's embrace of a coordinated and interdisciplinary approach towards addressing climate change, recognizing it as a cross-cutting issue.  A review of the four plans reveals the use of shared language and common concepts that allow the documents to correspond with each other.  As local municipal plans must conform with Provincial plans, the new policies will permeate their way throughout Ontario achieving further policy integration.  The amount of coordination amongst the policy documents cooperation between the Ministries will be absolutely vital towards achieving the highly ambitious targets set out by the Province.  We are glad to see this and hope to see more examples of deep interdisciplinary planning coming from the Province again in the future.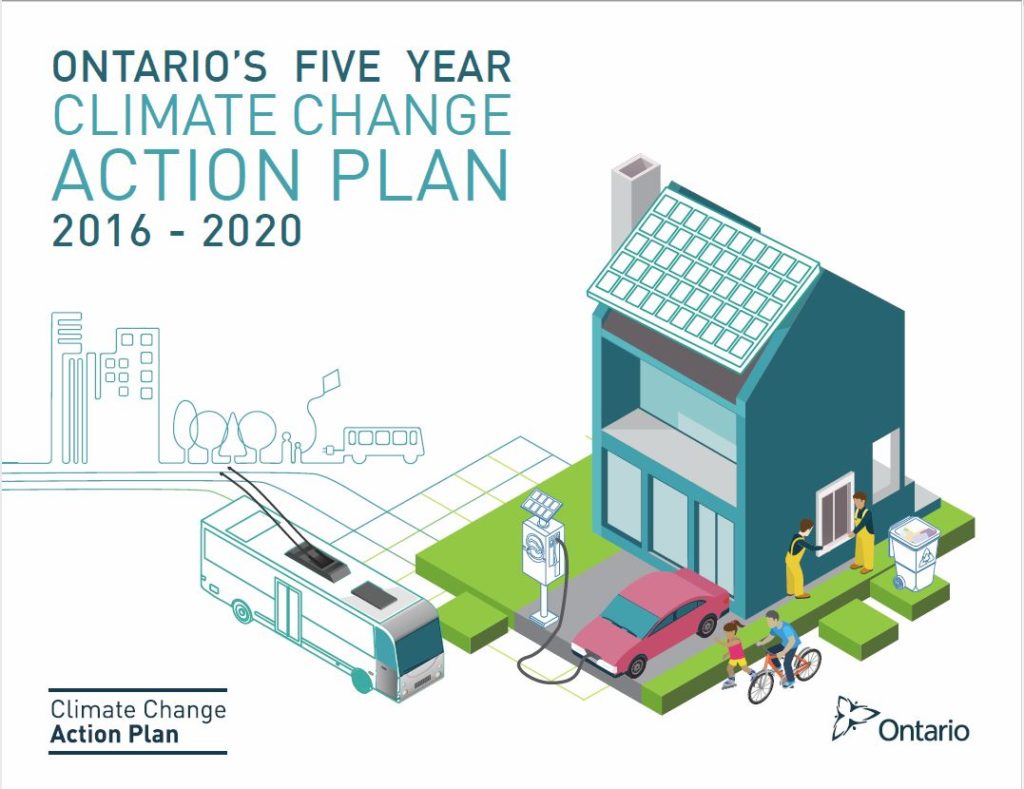 Placing climate change at the forefront of land use planning in Ontario
Each of the plans now places the goals of mitigating climate change and building resilience at the forefront of their documents.  The proposed Growth Plan update now references the Ontario Climate Change Strategy (released November 2015 as a precursor to the recently adopted Climate Change Action Plan).  Specifically, the Growth Plan implements the Strategy's long-term greenhouse gas reduction targets of 37% by 2030 and by 80% by 2050*.  Municipalities will be required to develop policies in the Official Plan to identify local actions for reducing greenhouse gases and other climate change adaptation goals contained within the Climate Change Strategy and Action Plan.  These changes are also consistent with the new climate change policies introduced into the updated Provincial Policy Statement in 2014.  New policies in the Growth Plan also encourage municipalities to develop local inventories of greenhouse gas emission for transportation, buildings, waste management and municipal operations, and to establish a monitoring process to report on local progress to reduce emissions.
By adapting to climate change and reducing greenhouse gases the new Growth Plan aims to achieve 'net-zero communities', described as "communities that meet their energy demand through low-carbon or carbon-free forms of energy", while offsetting any other emissions that cannot be eliminated, thus resulting in no net new greenhouse gas added to the atmosphere. The concept of net-zero communities represents a bold and challenging direction for the Province.  However, climate change science makes it clear that radical change will be required for us to make the necessary adaptations.  The building of complete communities, the conservation of natural areas, and the protection of water resources and agricultural lands are all described as ways of moving towards net-zero communities.  The Greenbelt Plan also reference this concept, repurposing 'settlement areas' in designated Greenbelt lands as supporting the goals of achieving both complete communities and net-zero communities.
Realizing a net-zero community could mean the use of more efficient building materials and technologies along with a greater application of green development standards including LEED.  Programs such as this are already being used in municipalities across Ontario, including the City of Toronto, City of Mississauga, Town of Halton Hills, Town of Caledon, and the Town of East Gwillimbury.  Net-zero communities may also mean the development of district energy facilities that produce low or carbon-free renewable energy at a localized scale, increasing a community's resilience to external shocks such as region-wide power outages.  Different scales of district energy programs are already operating in the City of Guelph, City of Markham, and City of London.  Enwave, based out of Toronto, is the second largest district energy provider in North America.
Connecting climate change with the protection of our natural features
One of the impacts associated with climate change is an increase in the frequency and intensity of severe storm and rainfall events.  If not properly managed, these events can cause incidents of extreme stormwater runoff, flooding, soil erosion, and water contamination.  Revised Growth Plan and Greenbelt Plan policies now require municipalities to prepare comprehensive stormwater management plans for any settlement areas or for any major large-scale development.  These stormwater management plans must be informed by watershed and sub-watershed planning, and must account for the impacts of extreme weather events including addressing flood risk vulnerability.
Municipalities must also prepare water and wastewater master plans that are informed by watershed planning, ensuring new development can adequately be serviced while conserving the quality and quantity of water systems and protecting sensitive hydrological features.  New policies in the Growth Plan, Greenbelt Plan, and the Oak Ridges Moraine Plan make reference to the application of low-impact development and the use of green infrastructure as tools for addressing climate change and increasing resiliency.  The Oak Ridges Moraine Plan also requires watershed plans to include a water budget and water conservation plan, and to identify impacts from climate change that may result in changes to precipitation patterns.
Another significant change that has long been called for by environmental and climate change activists is for the growing of Ontario's protected natural heritage system.  Natural heritage features play an important role in mitigating climate change due to carbon sequestration, which refers to the ability of natural areas to remove carbon dioxide (a greenhouse gas) from the atmosphere.
Primarily, the protection of natural features is handled through the Greenbelt Plan, Oak Ridges Moraine Plan, and Niagara Escarpment Plan.  New policies in the Greenbelt Plan identify additional features that could be added to the Greenbelt, including twenty-one major river valleys, seven coastal wetlands, and four areas to be designated as "Protected Countryside".  New policies in the Growth Plan would also identify a natural heritage system outside of the Greenbelt area, recognizing the need to protect natural features in rural and settlement areas throughout the Greater Golden Horseshoe.
Are we planning a bold enough future?
Arguably, climate change is the most pressing issue of our generation.  The policy changes proposed to each one of the four land use plans, together with the Ontario Climate Change Action Plan, are a critical step forward for Ontario based on bold objectives that will involve a major overhaul in almost all aspects of how the Province operates.  Ontario is demonstrating leadership towards realizing the goals of the COP21 agreement drafted in Paris last December and officially signed by Canada this past April.
The plans are bold in their vision, but what about in execution?  One of the issues that continues to be a challenge in implementing the previous Growth Plan was the lack of a clear process for reporting on local municipal progress made towards meeting intensification targets.  Without a process for monitoring and tracking progress made in reducing greenhouse gas, it will be difficult for the Province to evaluate if their goals and objectives are being met.
Other questions involve the tools being provided to municipalities to help reach their goals.  The Province-wide cap-and-trade program is expected to have the biggest impact in reducing greenhouse gas emissions, but tackling climate change will require a multitude of approaches.  The Ontario Climate Change Action Plan discusses strategies such as the legislation of green development standards in by-laws, the elimination of minimum parking standards, support for community energy plans, promoting the construction of electric vehicle charging stations at workplaces, and improving commuter cycling networks, amongst many other ideas.  These are examples of tools that can empower municipalities to not only help fight climate change but also create better complete communities.
As the original award-winning Growth Plan served as a model for forward-thinking regional planning in North America, we hope other regions will similarly adopt Ontario's commitment to addressing the important challenges of mitigating climate change and building community resilience.  We are also eagerly anticipating how the Province will move forward on making their impressive goals for fighting climate change a reality.
* Based on 1990 levels of greenhouse gas emissions.
Big changes are coming for Ontario planners. Changes to growth planning strategies, proposals for inclusionary zoning, the reform of the Ontario Municipal Board and all the action related to the implementation of Bill 73 are creating a crescendo of new planning activity. Put together, they represent major change in the content and process of Ontario planning. Urban Strategies will be keeping you up-to-date on all these initiatives in a series of blog articles we hope are both informative and speak to the issues involved. This is the fourth post in the series. Previous posts can be found here:  Planning in Ontario, The Quiet Revolution, Urban Growth in the GGH: A Big Change or More of the Same? Balancing Priorities for the Greenbelt, Oak Ridges Moraine and Niagara Escarpment, and Leveraging Transit Infrastructure to Support Growth.