Singapore
Urban Strategies has created visionary master plans for several major projects in Singapore.
1. Greater Southern Waterfront Design Consultancy (2009 – 2010)
Singapore's Urban Redevelopment Authority invited international design firms to harness fresh and innovative master planning concepts for the long term transformation of Singapore's Greater Southern Waterfront into one of the great urban waterfronts of the world. Urban Strategies led a multi –disciplinary team including Behnisch Architects as well as civil, transportation and sustainability engineers from Buro Happold to devise a sustainable framework of new mixed-use districts and open spaces with a special emphasis on diversity, flexibility and quality of life. Our design proposes a series of unique districts, including world-class spaces where innovation and commerce can thrive, as well as locally significant, diverse and human scaled places which people will call home. Together these places will embody the fusion of LIVING CITY/GLOBAL CITY.
After a year long competitive process, the Urban Strategies vision was selected as the strongest entry among the short-listed submissions. The scale of the project and its 20+ year horizon will require addressing a number of aspects of its implementation over the next few years, focusing on early action and long term delivery components of the plan in tandem.
Client: Urban Redevelopment Authority Singapore URA
Consultant Team: Behnisch Architecten, Buro Happold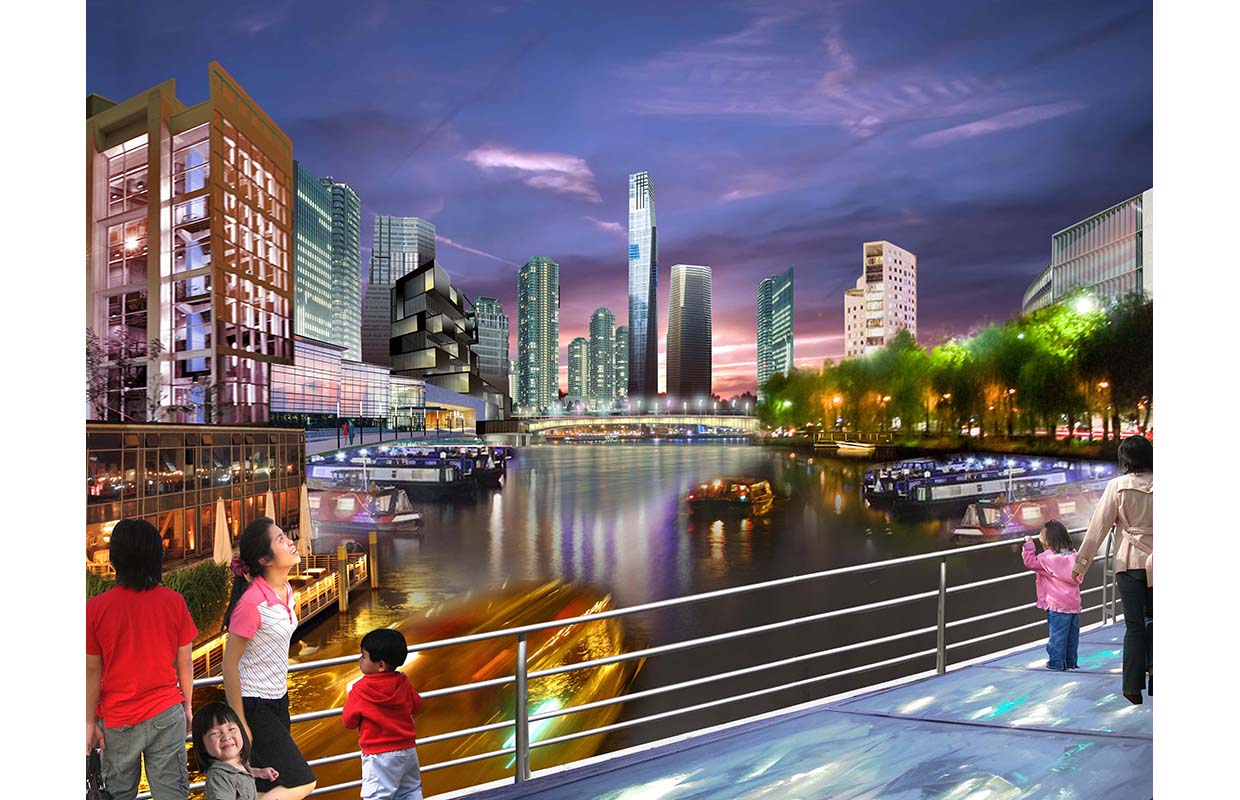 2. Punggol Masterplan (2011 – 2012)
The Housing and Development Board of Singapore (HDB) invited international design firms to develop masterplanning concepts for the Punggol, a future waterfront community of over 300,000 people along the northern coast of Singapore.  Urban Strategies Inc. was selected as masterplanner to guide an ambitious waterfront transformation.
Leading a multi-disciplinary team which included Buro Happold for transportation, microclimate and sustainability along with Phillips Farevaag Smallenberg for planning, urban design and landscape architecture, we devised a sustainable framework of mixed-use districts with a special emphasis on diversity, flexibility and quality of life. Innovations in urban design, tropical building typologies and conservation are integral to our plan, as is the close integration of nature and water with urban living — combined to create a tropical garden city. A cluster of special uses within the centre, brings together educational institutions, research and creative entrepreneurship, and a mix of retail formats, together with regional destinations to form a uniquely Singaporean vibrant  heart to Punggol, carefully integrated with a transportation network.  The masterplan responds to the challenges facing the 21st century city through a framework which fully integrates social, economic and environmental considerations to form a uniquely sustainable community.
The masterplan is truly the result of a collective enterprise.  Numerous work-shops tested design concepts together with key governing departments: such as the Housing and Development Board, the Urban Redevelopment Authority, the Land Transport Authority, and the National Parks Board. At the root of the masterplan is an inherently flexible framework which will respond to various delivery scenarios and development imperatives over the next 15 – 20 years.
Client: Housing and Development Board Singapore
Consultant Team: Buro Happold, Phillips Farevaag Smallenberg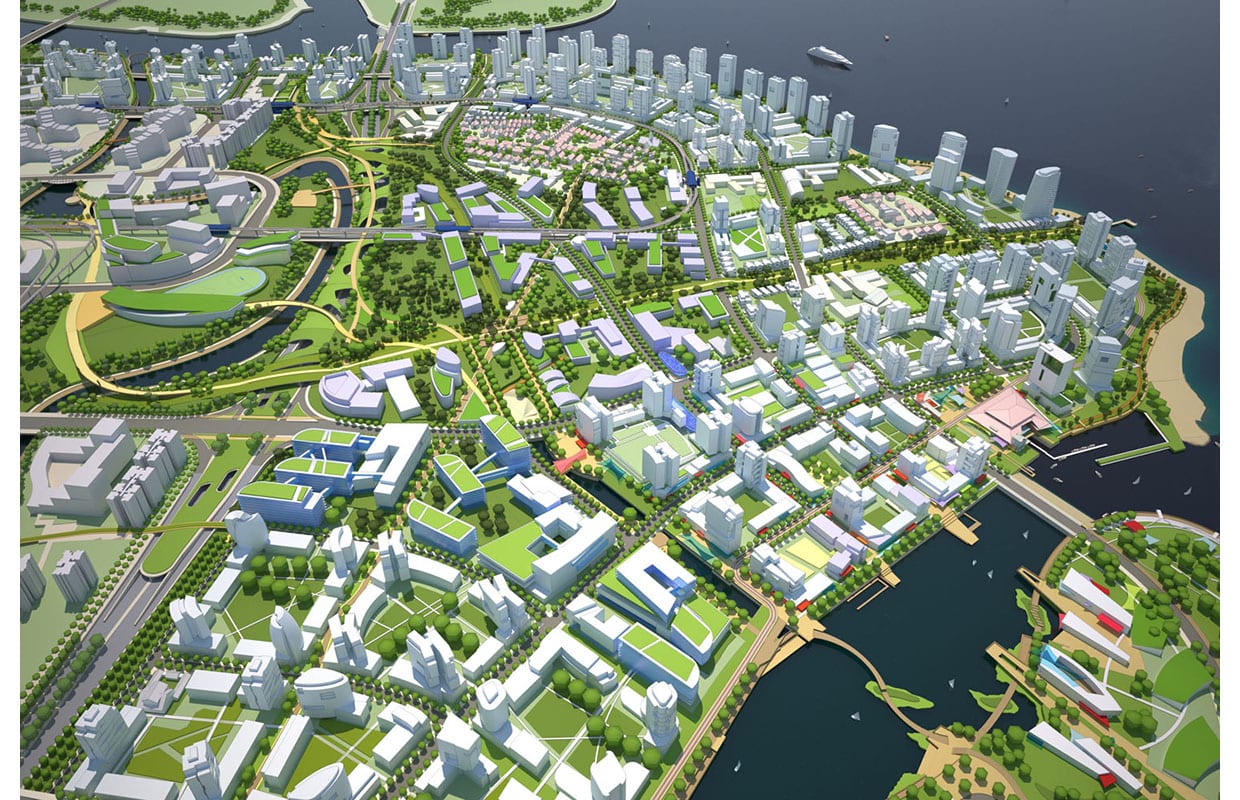 3. Bidadari Estate Singapore (2012 – 2013)
In 2012, the Housing and Development Board of Singapore (HDB) invited international design firms to revisit their master planning concepts for the Bidadari Estate, on a 93 ha. property located in Singapore's central region.  Urban Strategies Inc. was selected as master planner in collaboration with MKPL Architects and  ARUP for  transportation, hydrology and sustainability.
Our plan creates a "Community in a Garden" through a generously landscaped setting, integrating 12,000 residential units, supporting community and commercial uses with a regional park and greenway park connectors. Preserving the site's rolling wooded landscapes and creating seamless transitions to adjacent neighbourhoods were key drivers of the plan. Five distinct neighbourhoods are proposed, each reinforcing the park identity in different ways.  Small gardens and plazas will provide socializing spaces for residents. Parking and servicing will be seamlessly integrated into perimeter blocks or discreetly tucked under landscaped terrains. Building designs will vary in form, expression and height in order to reinforce a varied sense of place.
Numerous intensive workshops were held to test and refine the design, bringing together the Housing and Development Board and other government agencies such as, the Urban Redevelopment Authority, the Land Transport Authority, Public Utilities Board and, National Parks Board. The implementation will be very rapid, with substantial completion targeted for 2021.
Client: Housing & Development Board Singapore
Consultant Team: MKPL Architects, ARUP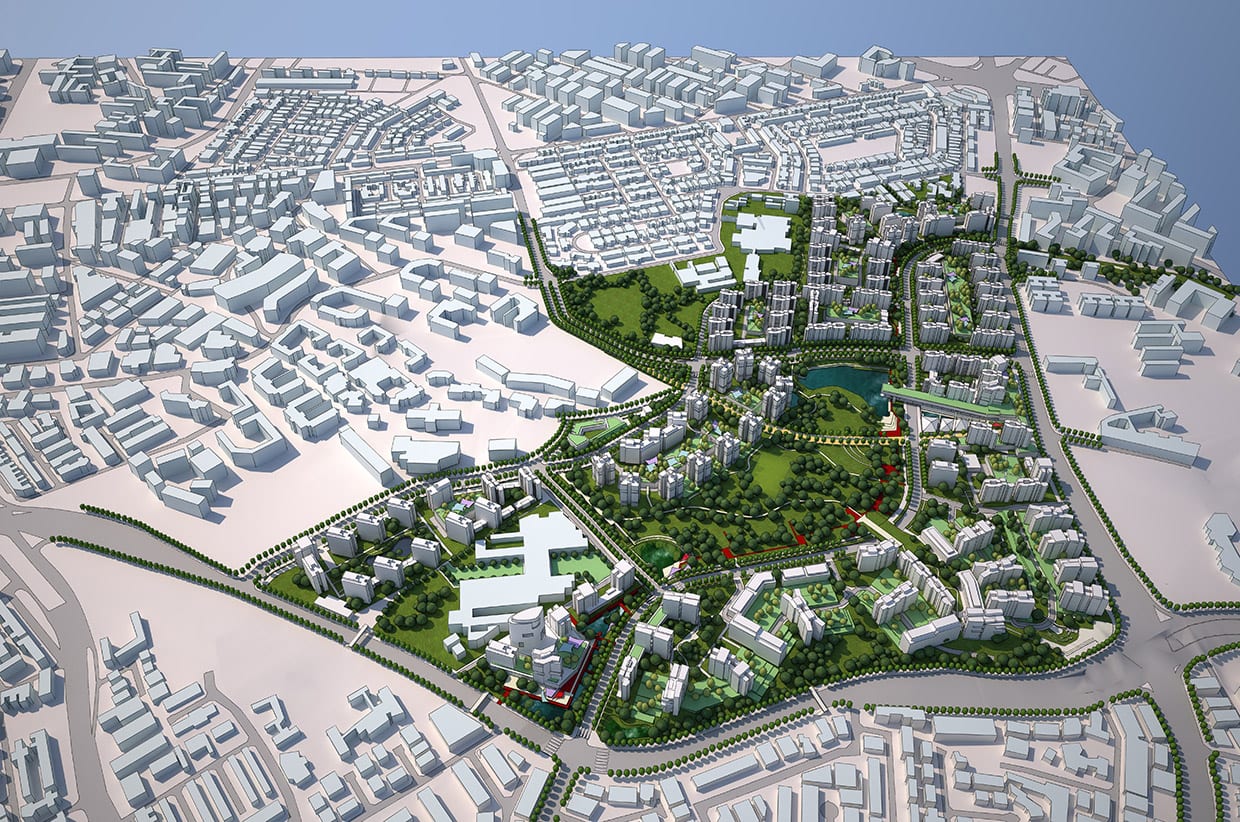 ---
---