Emerging Leaders shaping the future of Urban Strategies
Urban Strategies is continuing to grow and evolve. We are working on exciting projects across the nation, diversifying our service offering to create value for clients, working in new ways in our Hamilton Collaborative Studio, and making an impact on our industry through leadership and innovation. We are delighted to announce a series of promotions.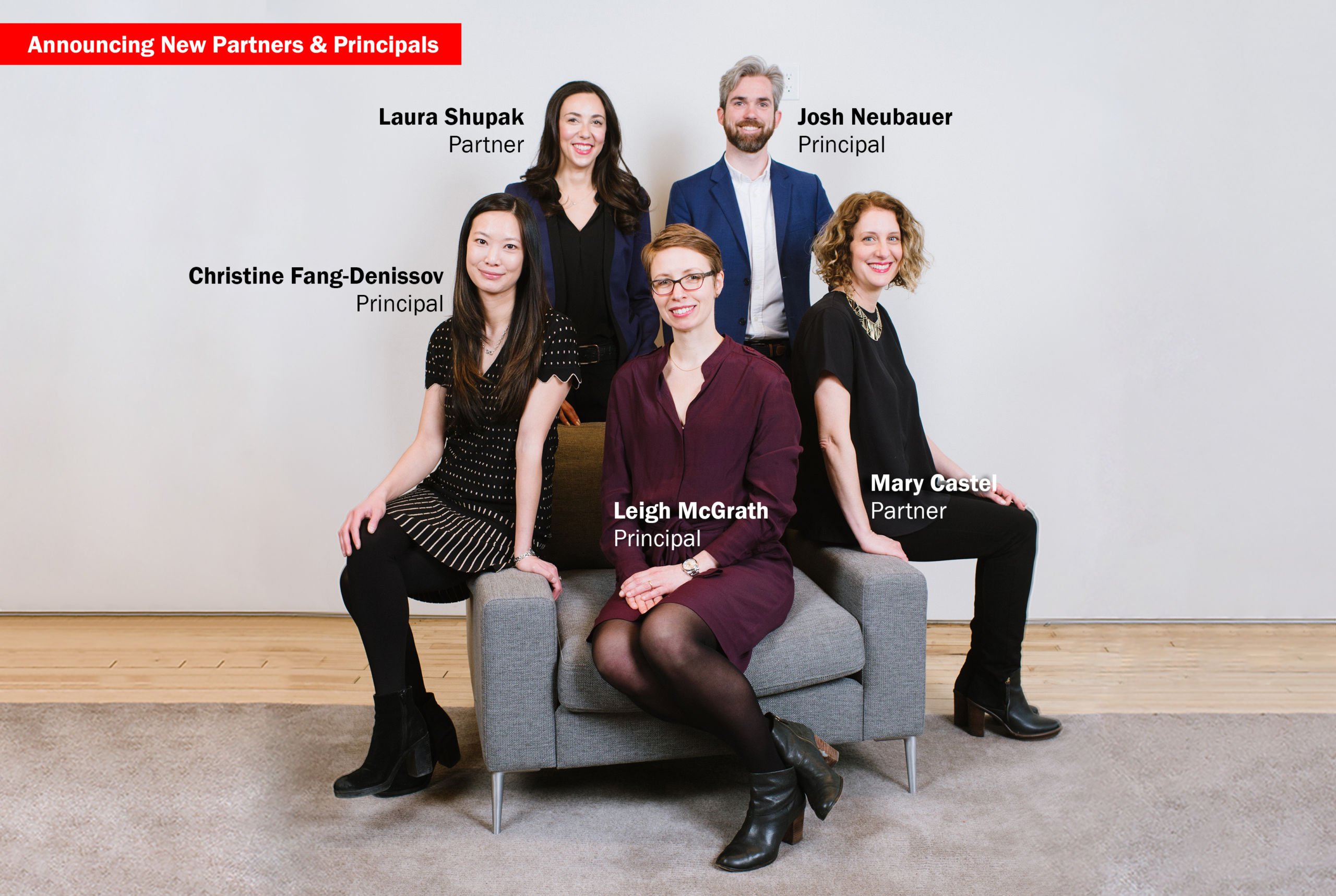 New Partners and Principals:
Urban Strategies has appointed three new Principals and two new Partners to our management group. These leaders are recognized for their innovation and impact, and will apply their perspectives to strategic firm management and continue to strengthen our profile and knowledge base.
(Clockwise from top left)
Laura Shupak, Partner: Laura is the firm's Director of Finance and Operations. She is and will continue to be the key administrative force in the office, leading innovation in not only the financial, but also HR and office management teams.
Josh Neubauer, Principal: Josh has distinguished himself through leadership of several high profile projects including the Princeton Campus Master Plan, the planning for the Pearson International Airport, and for several of our portfolio-based projects.  He plays a key role advancing our presence in Detroit and at our new Hamilton Collaborative Studio.
Mary Castel, Partner: As Director of Business Development, Mary advances our work to achieve strong recognition across numerous sectors and markets, created the Urban Strategies Academy, supporting thought leadership within the firm, and is the Communications Co-Chair of the Urban Land Institute's Toronto Chapter.
Leigh McGrath, Principal: Leigh leads much of our policy and development work in the Greater Toronto area and on the East and West coasts. She directs the firm's Project Management program, helping us work more smoothly, efficiently, and profitably, in addition to mentoring up and coming Planners.
Christine Fang-Denissov, Principal: Christine has been leading some of Urban Strategies' most high profile and complex development plans within the Toronto area. Her work is recognized for addressing design and planning simultaneously.  Christine is also making a strong contribution to design leadership within the firm and across the industry.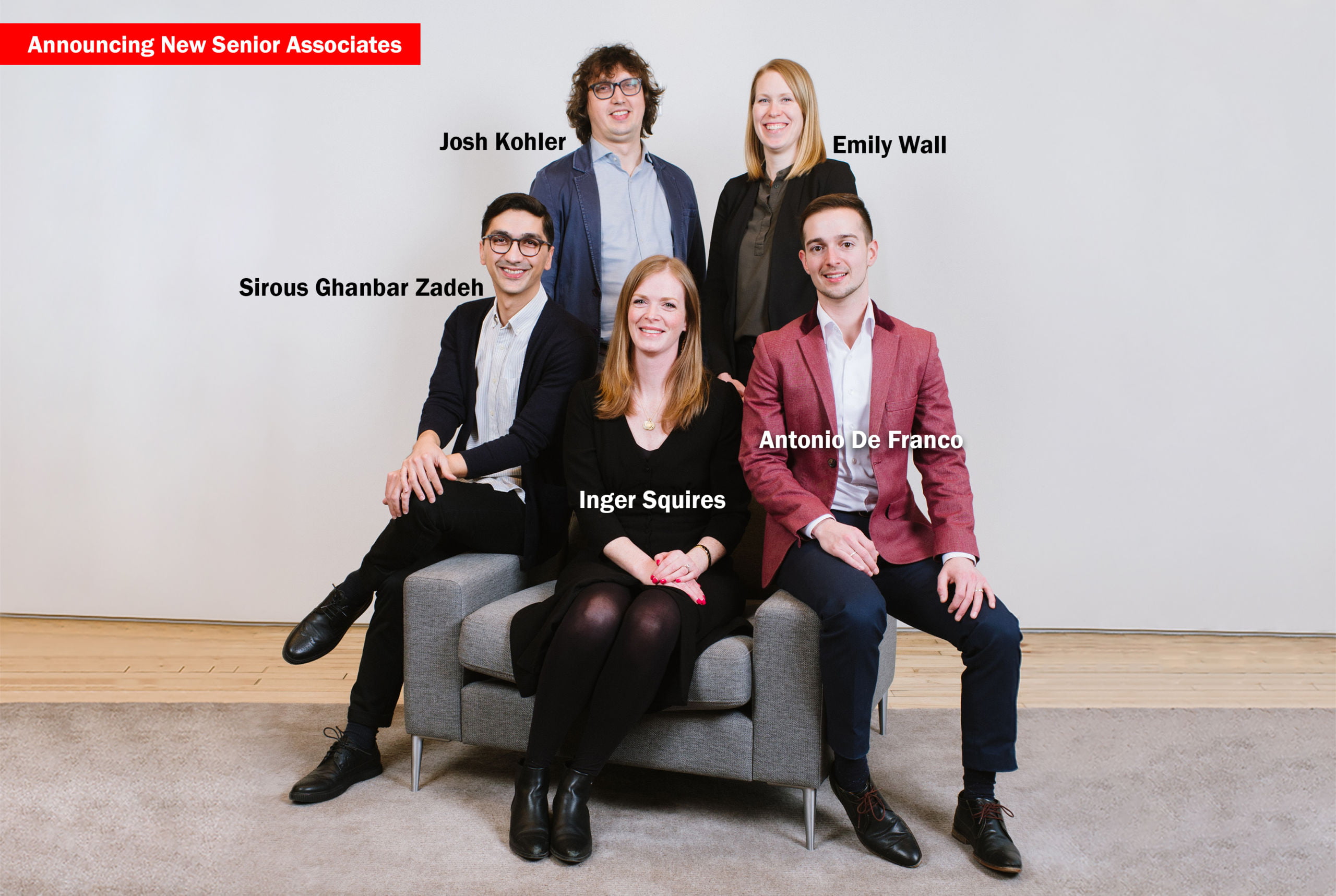 New Senior Associates:
We have the privilege of announcing five new Senior Associates.  These individuals are making an important and positive impact through their project achievements, their profiles in the industry, and their focus on client relationships.
Josh Kohler: Josh has managed many complex large-scale master planning projects in Toronto, including for SickKids Hospital, the former Christie Cookie factory site, and the Mirvish Village redevelopment. He also continues to expand Urban Strategies' market in BC, having recently completed a 50-year campus master plan for Simon Fraser University, and now leading the firm's work on the 19-acre former Saputo Factory site in Burnaby.
Emily Wall: Emily is recognized for her breadth of abilities, deep knowledge and strategic, creative approach to planning. She plays a lead role in our ongoing project work for Toronto Community Housing, University of Toronto, and the Municipality of Clarington, and founded our Truth and Reconciliation task force.
Antonio De Franco: A strategic thinker and strong project manager, Tony has taken a lead role in advancing a range of complex master planning and development projects, including the regeneration of East Harbour and the ongoing Sterling Road revitalization. With a wide breadth of planning experience, Tony has become a reliable source of knowledge and strategic advice for clients and colleagues alike.
Inger Squires: Embracing complexity, Inger is an expert in Ontario planning policy, leading the planning policy review within our firm. She is focused on managing large-scale redevelopment projects and complex municipal planning approvals, including for Sidewalk Labs Toronto, CIBC Square, several sites for Choice Properties REIT, and a number of retirement home developments in the GTA.
Sirous Ghanbar zadeh: Sirous is a skilled Urban Designer who has played a pivotal role on numerous projects in Ottawa. Recently, Sirous has also been leading work in Vancouver, including Simon Fraser University's new Campus Plan and an extensive master planning exercise for the Jericho lands in Vancouver. He is a sought-after mentor at Urban Strategies and within the design industry.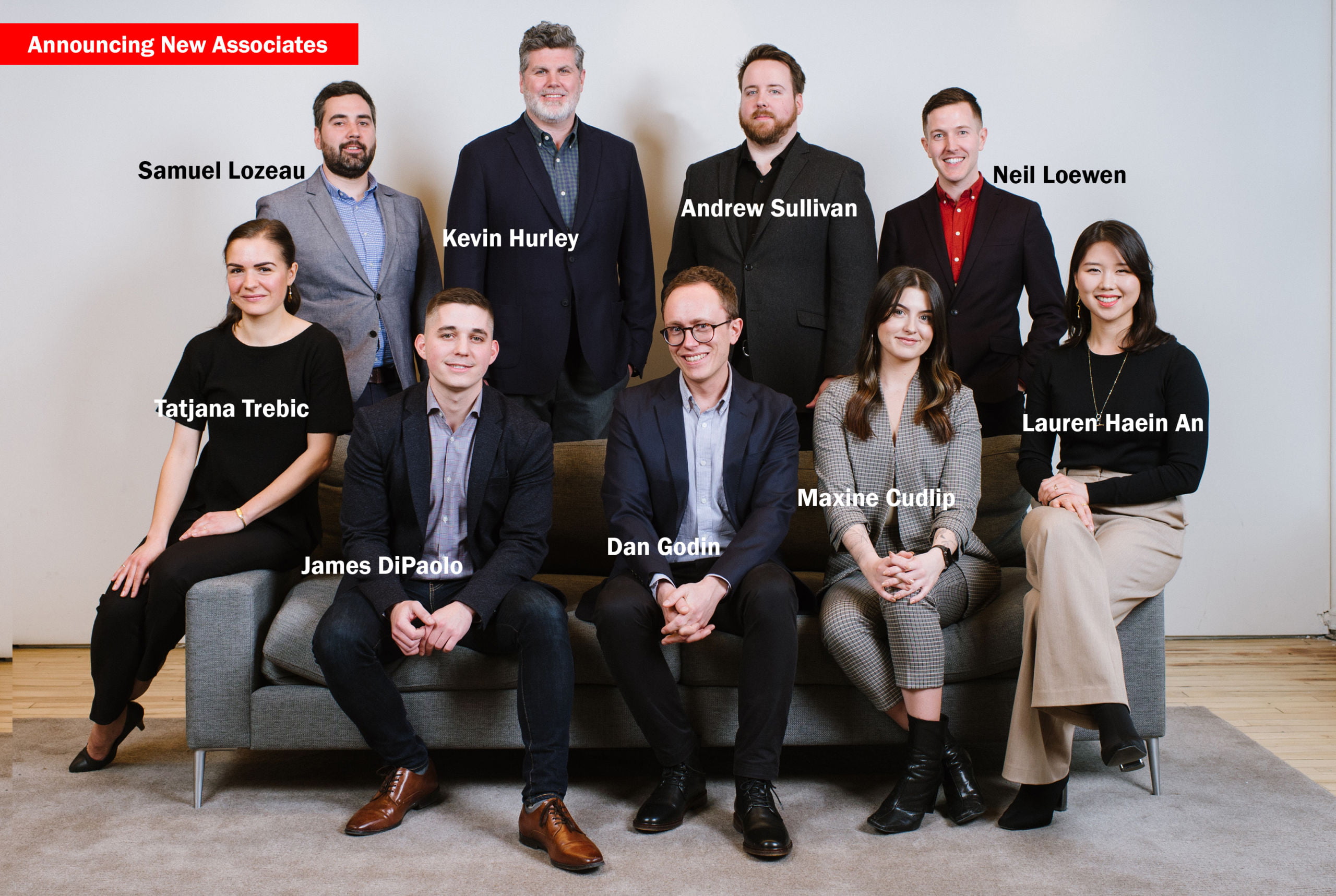 New Associates:
As emerging leaders, our new Associates are some of the most talented and dedicated people in the industry – and are only getting stronger.
Samuel Lozeau: Sam is a talented Urban Designer who has played a key role on many of our large portfolio projects in Toronto as well as master plans across Canada and in the UK.
Kevin Hurley: Kevin is a Planner with strong foundation in Toronto's policy framework. He manages some of our more complex approvals projects in downtown Toronto.
Andrew Sullivan: As our Proposal Manager, Andrew's excellent attention to detail and management skills have strengthened our business development team.
Neil Loewen: Neil contributes to Urban Strategies' mobility and development approvals planning practices, drawing on his excellent communication skills and energy.
Lauren Haein An: A great team player, Lauren manages a number of large scale master plan projects in Toronto including the redevelopment of the former Christie's Cookie Factory.
Maxine Cudlip: Maxine is a creative and collaborative Urban Designer who has demonstrated leadership within the design industry at CANU.
Dan Godin: Dan has played an important role in growing our professional network in Alberta, in addition to developing innovative policy for growing municipalities in Ontario.
James Di Paolo: James has a broad complement of abilities as a Planner and geospatial analyst, working on complex studies and plans with city-wide importance in Ontario and on the east coast.
Tatjana Trebic: Tatjana's project management abilities are exceptional. She is involved in numerous approvals processes in Toronto, and is currently acting as Project Manager for an extensive master planning exercise for the Jericho lands in Vancouver.
Please join us in congratulating our newly promoted team members!