Reflecting on Women's Leadership: Lessons from the Judy Project
On February 13, 2020 Leigh McGrath and Anna Iannucci attended a special Toronto Urban Land Institute Chapter Women's Leadership Initiative event featuring insights and perspectives on what women's leadership means and looks like in 2020. At the event, four leaders from a range of industries read excerpts from their contributions to a book entitled "The Collective Wisdom of High-Performing Women: Leadership Lessons from the Judy Project." In light of International Women's Day, Anna and Leigh have provided their insights on the event.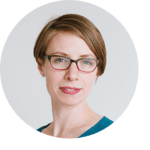 The event stood apart for me because of the very honest reflections on leadership that were provided by the panelists. Each gave personal insight into their path and acknowledged the role that doubt can play in keeping women from realizing their full potential. Each also discussed strategies to move beyond doubt, such as seeking out mentors and developing confidence even in the face of uncertainty. I appreciated the recognition that being a good leader isn't synonymous with promoting a certain style or method. There is room (and demand) for a range of leadership styles that authentically reflect one's own self and can also help inspire the best in others.  – Leigh McGrath
A few of the women's reflections at the event really stood out for me. Once was the idea of honest corporate storytelling – being open with young women about what it is like to advance through the ranks and to be a female leader, including the all the struggles, setbacks and uncertainty as well as the joys and triumphs. We are doing no one any favours if we aren't honest with each other about the entire experience of being a female leader. Another was the idea that while maybe you can't have it all (a feeling that I think many women these days relate to), you can have your all. As women we need to figure out what that looks like for us, commit to our priorities and ditch the guilt – I found this to be a very inspiring message. – Anna Iannucci
We celebrate the women leaders at Urban Strategies and in all of the industries and communities that we collaborate with through our work.
---
Event image by Shiraz Ali | www.shibbyphotography.com | @shibbyphotography