Leveraging Transit Infrastructure to Support Growth
In May 2016, the Province of Ontario released proposed updates to the Growth Plan for the Greater Golden Horseshoe and other provincial plans. The updated policy documents are intended to help manage growth, build complete communities, integrate infrastructure, protect the natural environment, and promote economic growth throughout the region.
Transit is recognized in the Growth Plan as the first priority for transportation planning and investment. The regional vision for transit aims to align transit investments with growth areas to support connected, sustainable and mixed-use communities. The focus on transit also helps encourage transportation choices that reduce automobile dependence and shift towards more sustainable modes of travel.
The updated Growth Plan places a renewed emphasis on linking infrastructure investments with key growth areas. The Plan strives to better leverage transit infrastructure investments to facilitate higher-density development in strategic growth areas. These strategic growth areas – which are referred to as intensification areas in the current Growth Plan – include major transit station areas, mobility hubs, and major streets and corridors that are planned for increased transit service.
Aligning infrastructure with growth is not a new idea, however the requirement for enhanced integration between transit investment and growth is a notable policy improvement. These new policies can help promote the efficient use of transit infrastructure by focusing new investment in higher-density areas that can generate significant transit ridership. By aligning transit infrastructure investments with growth, there is also a strengthened onus on transit planning agencies and municipalities to make fact-based investment decisions that consider ridership forecasts, anticipated growth in residents and jobs, and overall redevelopment potential.
The updated Growth Plan introduces the idea of priority transit corridors to capture the range of emerging higher-order transit corridors that have been targeted for planning and intensification. These priority transit corridors are shown in the updated mapping (Schedule 5) and reflect some of the region's most significant transit infrastructure projects that are planned or underway. While many of these priority transit corridors were identified in the 2006 Growth Plan, the new Growth Plan more explicitly highlights these corridors and requires municipalities to prioritize planning for these areas. Urban Strategies has been involved in a number of these infrastructure planning projects, including the Eglinton Crosstown, the Waterloo Region LRT, the Sheppard East LRT, the Mississauga Transitway, and Regional Express Rail, all of which have the potential to significantly strengthen the relationship between land use and existing and planned transit investments.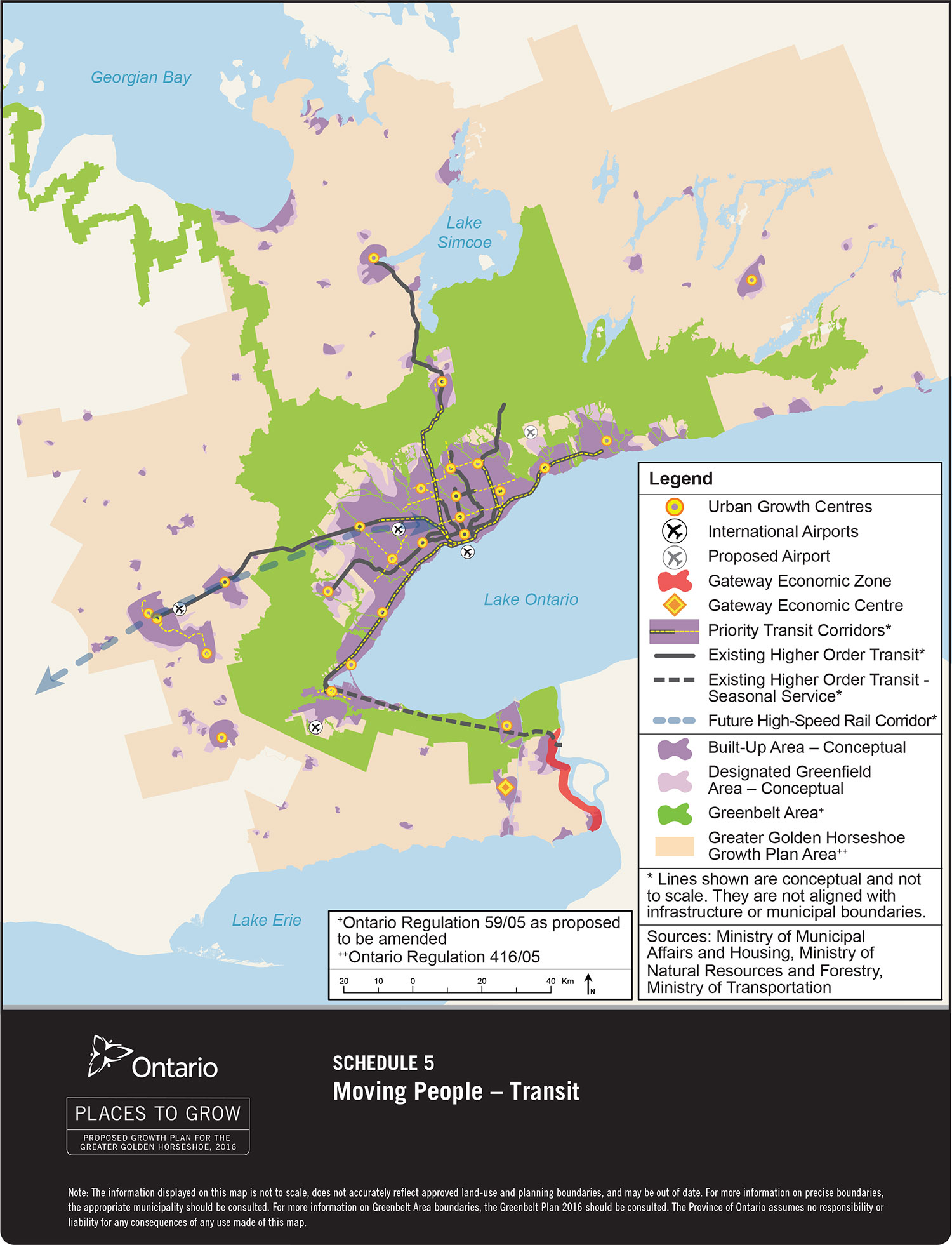 One of the most critical updates to the Growth Plan is the introduction of new policies that require updated zoning to be implemented for major transit station areas and mobility hubs along these priority transit corridors. This is a critical policy innovation that envisions the lands along these corridors being "pre-zoned" to accommodate higher densities and transit-supportive uses. Some cities have already begun to adopt this approach. For example, as part of the LRT Station Area Planning work that Urban Strategies is undertaking for the City of Waterloo, our team is assisting City staff in the development of updated Official Plan and zoning regulations to support the anticipated growth and change around the LRT stations.
The introduction of density targets for major transit station areas is another key policy change. Major transit station areas must be planned to achieve the following density targets:
200 residents and jobs combined per hectare if served by subways;
160 residents and jobs combined per hectare if served by LRT or BRT; and
150 residents and jobs combined per hectare if served by GO Transit's Regional Express Rail service.
While the 2012 MTO Transit-Supportive Guidelines provided similar density targets, engraining these targets into the Growth Plan gives them new relevance and statutory weight.
The need to intensify around transit is key to achieving improved integration of transit and land use planning, and represents good planning practice. However, the updated density requirements present potential implications that will need to be considered. One challenge is deciding how best to achieve higher-density development without disrupting the character of an existing area. Redevelopment proposals in many communities sometimes face opposition from local residents who are concerned about the impacts of growth. As areas around transit evolve, it will be important to find the right balance between growth and the retention of neighbourhood character.
A related question is how the density targets will be implemented at the local level. The new density targets apply to all station areas along transit corridors. While at a corridor-wide level the targets are appropriate and can help achieve transit-supportive growth, the updated Growth Plan policies seem to assume that all station areas will achieve these density targets by 2041. In reality, some transit station areas include stable communities that are unlikely to see higher-density redevelopment and will not be able to achieve the Growth Plan targets. This generalized approach to density does not seem to recognize the distinct characteristics of each station area, and does not acknowledge that densities will vary from station to station depending on the local context.
Another challenge relates to housing mix and affordability, which are issues that are top-of-mind across many GTA municipalities, and in particular in the City of Toronto. Given the more rigorous density targets that are proposed for transit areas, opportunities to develop new ground-oriented housing will be more limited around transit stations. Instead, the shift towards higher-density apartment units is likely to continue, which will restrict the supply of low-rise, family-oriented housing that is well-served by transit, and could lead to further price increases for these units. If municipalities are interested in providing a broad mix of housing while achieving density targets, there is a need to consider newer forms of higher-density, family-oriented housing. In an effort to address this challenge, Urban Strategies is working with the City of Toronto as part of the Growing Up Study to examine how new multi-unit housing can better accommodate families.
The updated Growth Plan also puts forward policies aimed at strengthening the protection of infrastructure corridors – whether used for transportation, transit or hydro purposes – to ensure that these corridors and right-of-ways can meet existing and future needs. There is also a focus on better coordinating infrastructure corridor planning with land use designations along these corridors to ensure that infrastructure corridors are not impacted by conflicting land uses or visa-versa. The protection of transit corridors has emerged as a contentious issue over recent months, particularly as GO Train service intensifies over the coming decade to support the implementation of Regional Express Rail and SmartTrack. The potential for land use creep – such as the introduction of sensitive residential uses adjacent to existing rail corridors – threatens the long-term viability and potential for future expansion of public infrastructure. This is an issue that the Province will need to continue to monitor and exert its planning authority when warranted.
It is also interesting to note that while the updated Growth Plan strives to integrate land use with priority transit corridors, not all transit corridors are created equally. For example, unlike subway or LRT corridors, heavy rail corridors such as the GO Train network can be much more challenging to integrate alongside existing and new development. For instance, the facility requirements associated with heavy rail – including maintenance yards and storage facilities – are more extensive. This creates tension between providing facilities to enhance GO Train service and the desire to intensity the lands along these heavy rail corridors. Planning around major rail corridors will likely involve trade-offs that will require bigger-picture thinking which balances the needs of the region with the specifics of place.
Stay tuned for additional blog posts in this series.
---
Big changes are coming for Ontario planners. Changes to growth planning strategies, proposals for inclusionary zoning, the reform of the Ontario Municipal Board and all the action related to the implementation of Bill 73 are creating a crescendo of new planning activity. Put together, they represent major change in the content and process of Ontario planning. Urban Strategies will be keeping you up-to-date on all these initiatives in a series of blog articles we hope are both informative and speak to the issues involved. This is the fourth post in the series. Previous posts can be found here:  Planning in Ontario, The Quiet Revolution, Urban Growth in the GGH: A Big Change or More of the Same? and Balancing Priorities for the Greenbelt, Oak Ridges Moraine and Niagara Escarpment