Growing Leadership, New Promotions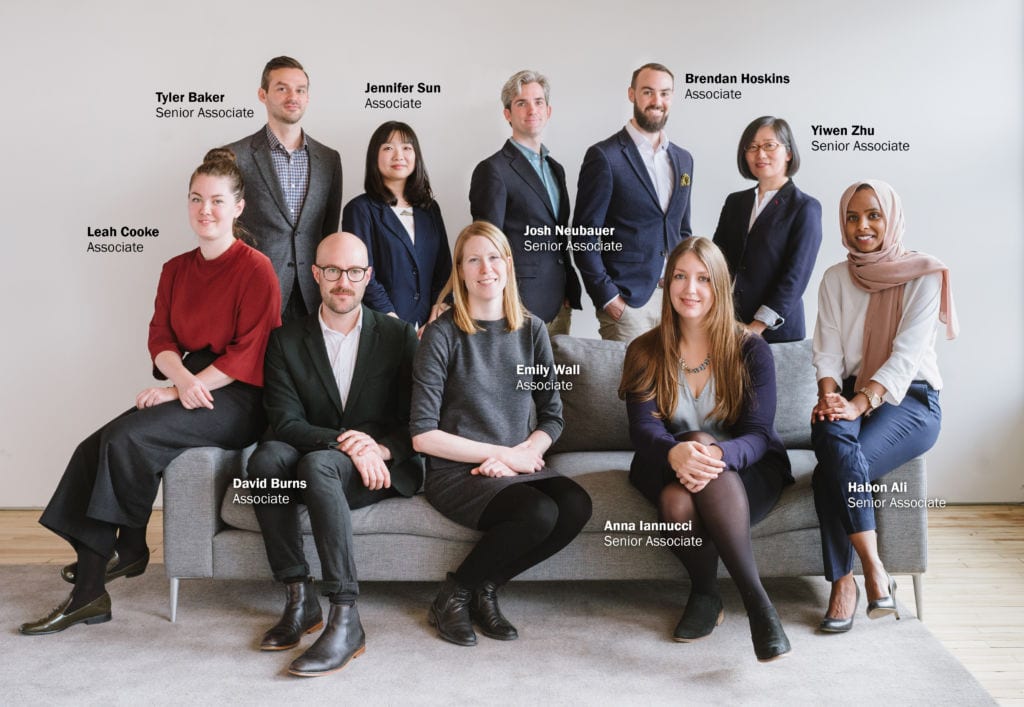 We are very pleased to announce our latest staff promotions, reflecting our growing leadership.
Five new Senior Associates:
Anna Iannucci: Anna is a significant contributor to the firm's international work in the UK and Barbados. Recognized as a key strategist and project manager, she is involved in regeneration plans, waterfront master plans, growth plans, transportation plans and development approvals. Her class at Ryerson University recently undertook a study of autonomous vehicles and smart growth. Read more.
Habon Ali: Habon is a planner and certified Project Management Professional with experience in the public, private and non-profit sectors and a focus on enhancing urban mobility and encouraging the creation of healthy, inclusive communities. Habon is currently working on a range of large-scale retail and office redevelopment projects across the GTA, and a Comprehensive Plan for the City of Troy, NY. Read more.
Tyler Baker: Tyler is an urban designer who manages large-scale development approvals, campus planning and redevelopment projects locally and internationally. Current projects include the Alexandra Park Revitalization in Toronto and a neighbourhood plan at UBC in Vancouver. He led the urban design component of the Barbados Physical Development Plan and presented at the UN World Urban Forum in Kuala Lumpur last month. Read more.
Josh Neubauer: Josh is a planner who frequently manages large and complex projects, and enjoys developing strategies that connect communities, infrastructure and sustainability. He played a key role in the Princeton Campus Plan, is involved in several airport-area plans, as well as high-profile development approvals. Josh is passionate about food security, and is Chair of North York Harvest Food Bank. Read more.
Yiwen Zhu: Yiwen is an urban designer with 15 years of experience across North America, Europe and Asia. Yiwen is currently helping the firm to expand its presence in Mainland China, and was recently appointed to the Toronto Community Housing Design Review Panel. She played a key role in the recently adopted Campus Plan for Princeton University. Read more.
Five new Associates:
Leah Cooke: Leah is a skilled planner who specializes in the management of complex development approvals. Her ability to balance design intent with timely project implementation has earned her the respect of clients and peers. Her recent projects include CIBC Square (45/141 Bay Street), Yorkdale Shopping Centre, and 34-50 King Street East/2 Toronto Street. Read more.
Jennifer Sun: Jennifer is an interdisciplinary planner with broad expertise in planning, urban design, spatial analysis and management studies. She has worked extensively in Canada and the United States for both public and private clients. Her recent projects include the Princeton University 2026 Campus Plan, the NYIT Campus Master Plan, and the Macdonald Block Reconstruction Project. Read more.
Emily Wall: Emily joined Urban Strategies in 2017 with a strong background in planning and international development. Skilled at managing complex projects and communicating with diverse audiences, her extensive experience includes transit-oriented development projects, development approvals, and campus, waterfront and public realm master plans. She is currently involved in the Alexandra Park Redevelopment and U of Toronto Secondary Plan. Read more.
David Burns: David is a respected urban designer trained in landscape architecture. He works at a variety of scales on projects such as campus master planning, waterfront redevelopment and downtown revitalization plans. His inventive Britannia Farm Master Plan for the Peel District School Board won a 2017 Canadian Institute of Planners Award of Excellence. Read more.
Brendan Hoskins: Brendan joined our team in 2017 from Sydney, Australia. He specializes in leading multi-disciplinary and city-shaping projects, bringing a global view developed through international experience. He takes a collaborative approach to achieve the best outcomes. Current projects include the Reimagine Galleria redevelopment, a Campus Master Plan for Centennial College and the Grand Trunk Master Plan for the City of Stratford. Read more.