CMHC National Housing Strategy Solutions Lab
2019-2020
Toronto, Ontario
Housing and transportation infrastructure in the Greater Toronto and Hamilton Area are under immense pressure. Housing costs have increased far faster than the rate of inflation, while congestion is leading to longer commutes and decreased productivity. Vulnerable groups such as the elderly, low-income and racialized communities are impacted the most, pushed to the geographic peripheries where housing is more affordable but access to high quality transit is limited. The result is a growing gap between housing affordability and access to mobility. Recognizing the challenge, governments at all levels have committed funds and resources for transit expansion and affordable housing; however, there is less focus on the coordinated delivery of affordable housing and transit.
This Transit-Oriented Affordable Housing Solutions Lab sought to understand and promote the alignment of affordable housing and transit infrastructure development in the Greater Toronto and Hamilton Area. This research project followed the social innovation lab research process, a collaborative method of working with a diverse group of stakeholders to understand, iterate, and prototype to address a challenging issue. While the Lab heard that there are many barriers, it was collectively felt that opportunities exist to leverage public procurement processes and policies related to transit expansion to better support affordable housing objectives.
The Lab proposed five key interventions to move towards systemic change:
Expanding the mandates of public sector transit and land development agencies;
Quantifying the externalities of transit-oriented affordable housing;
Developing a more comprehensive vision for transit-oriented affordable housing;
Aligning the land entitlement process with the transit planning process;
Undertaking strategic land acquisition to support new development and contribute to city-building objectives.
Read the report here: https://www.toronto.ca/legdocs/mmis/2021/ex/comm/communicationfile-131159.pdf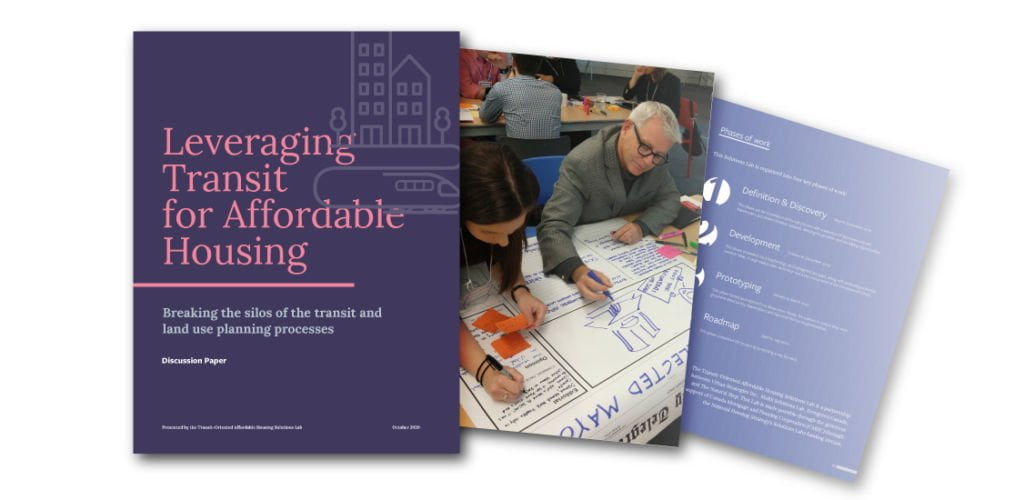 This Lab is made possible through the generous support of Canada Mortgage and Housing Corporation (CMHC) through the National Housing Strategy's Solutions Labs funding stream.
CMHC National Housing Strategy
4 photos