Reinvesting in Toronto
1998 to 1999
Toronto, Ontario
Toronto has long been regarded as a world-class city with a healthy economy and exemplary quality of life, in stark contrast to the once common view of most American cities. The perception of U.S. cities, however, is changing rapidly.  An urban renaissance is underway in the U.S., fuelled by declining unemployment and crime rates and massive amounts of public infrastructure investment. What does this mean for Toronto?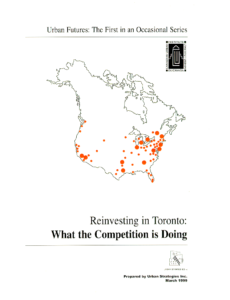 Urban Strategies, originally retained by the St. Louis Development Corporation and with support from the Canadian Urban Institute, examined the nature of investments being made in fourteen cities across the United States. We undertook a comprehensive review of federal, state and local funding programs and interviewed key stakeholders to develop an investment profile for each city. This work revealed a substantial gap in the amount of investment being made in Toronto's public infrastructure relative to its U.S. competitors, underlining the need for immediate action if Toronto is to maintain its economic vitality and high quality of life.
Our study culminated in Reinvesting in Toronto: What the Competition is Doing, which documented trends in public infrastructure investment and outlined a plan for Toronto to achieve long-term financial self-sufficiency.