The Well
2012 - Present
Toronto, Ontario
In 2008, Osmington Inc. hired Urban Strategies to start the process of transforming the Globe and Mail lands into an iconic legacy project for the city. The site is one of the last high profile landholdings along the Front Street corridor. Urban Strategies prepared a planning policy review and master plan for a destination development unique to Toronto and fitting for the mercantile history of the area.
Image by Hariri Pontarini Architects
The site was eventually sold to DiamondCorp, a prominent real estate developer from Toronto. Given Urban Strategies' familiarity with the site and the surrounding context,  the firm was hired in 2013 to provide urban planning and urban design expertise to an impressive consultant team, including Hariri Pontarini Architects and Claude Cormier Landscape Architects, among others. A team of accomplished developers was also assembled, in addition to DiamondCorp, RioCan and Allied Properties joined and provided their expertise to the project, creating a truly unique mix of talent and experience.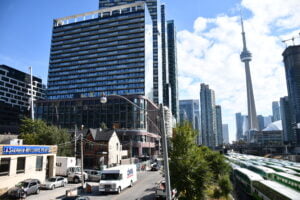 The project is named The Well, and is comprised of seven buildings in total, ranging in height from mid-rise buildings on Wellington Street to taller buildings along Front Street West and Spadina Avenue. An example of a true mixed use project, The Well is comprised of almost 50% residential uses and 50% employment uses, in fact  each building contains at least two different uses and in some cases up to four. The project will also fulfill a century old public realm plan to transform Wellington Street West into one of the premier boulevards of Toronto. All of the aforementioned attributes of the project are highlighted by extensive fine grain pedestrian laneways, providing safe and direct connections between all of the project's surrounding streets and beyond into the adjacent neighbourhoods. These pedestrian laneways will be animated by a variety of retailers and punctuated by the entrances to the offices above. The northwest corner of the Spadina Avenue and Front Street West intersection will become a  new neighbourhood of interest in Toronto. The proponents of the project also understand the importance of public transit as a tool for city building, and have positioned The Well to act as a new transit hub when all of the proposed transit infrastructure improvements in Toronto are completed.
Project numbers
7.8 acres – Total size of the project
1,100,000 – Square feet of office space
500,000 – Square feet of retail space
5,500 – New office-related jobs
1,300 – New retail jobs
1,800 – New residential units (including condos and rentals)
7 – Buildings in total
An application to amend the City's Official Plan was submitted, including a combined Planning Rationale and Urban Design Analysis report prepared by Urban Strategies. The project also appeared before the City's Design Review Panel, receiving high praise from the panelists, some of whom remarked that the project was "thrilling, game changing" and that it was the "most exciting project in the city.
Read about The Well in the Globe and Mail!
Article by: Guy Dixon, July 2, 2018