104 Avenue Corridor Area Redevelopment Plan
2014 - 2015
Edmonton, Alberta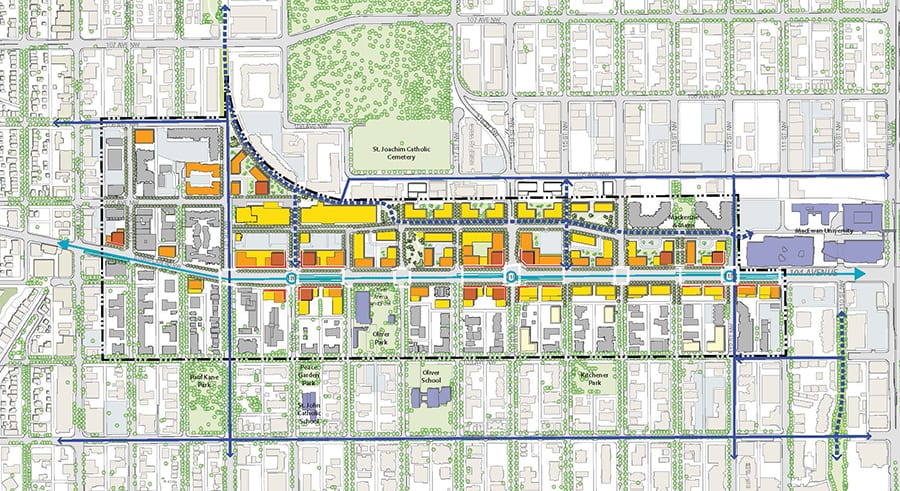 The City of Edmonton is anticipating considerable growth over the next 25 years, with its population expected to reach approximately 1.3 million. To prepare for this growth and the increased demand it will place on infrastructure and mobility systems, the City is adopting more sustainable development practices, including an emphasis on transit oriented development (TOD) to support planned major transportation investments. The 104 Avenue Corridor Area Redevelopment Plan (ARP) is a prime example of proactive planning that puts a framework in place to leverage investment in a Light Rail Transit (LRT) line to advance the City's sustainability objectives.
The consulting team combined planning and design expertise from Urban Strategies, market expertise from Cushman & Wakefield and transportation expertise from ISL Engineering and Land Services to bring a multi-disciplinary perspective to managing change along the 104 Avenue Corridor. The consulting team worked in close partnership with the City of Edmonton throughout the plan development process, complementing their subject matter expertise with City staff's local knowledge and familiarity with municipal processes and procedures. The plan area encompasses three stations on the planned Valley Line at 112 Street, 116 Street and 120 Street, along with the surrounding area within a walking distance of approximately five minutes from the stations – essentially the area with the most potential for TOD. It is on the fringes of Downtown Edmonton, and with large underutilized parcels, an abundance of older housing stock and redevelopment of the Brewery District in the northwest portion of the plan area already underway, there was a significant opportunity to capitalize on the planned LRT and the increased development interest that it will bring.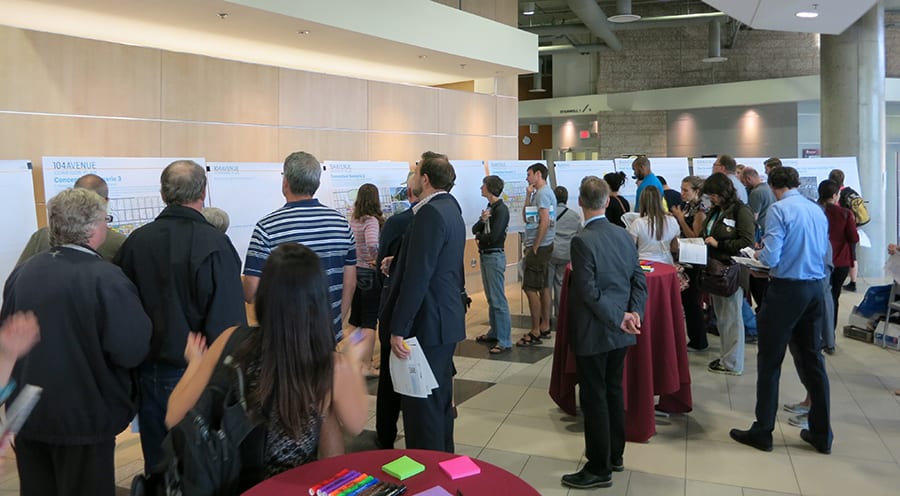 Public consultation was an important part of the process of developing the 104 Avenue Corridor ARP. The community in the area is active and engaged and was eager to play a role in re-imagining the corridor as a more urban part of the city. The robust engagement process included three public workshops as well as one-on-one interviews with key stakeholders including Community Leagues, Business Revitalization Zones, major landowners, and surrounding institutions. The draft plan was also presented to the Edmonton Design Committee which recommended support with some suggestions that were incorporated into the final ARP.
---
---