CIBC Square (formerly Bay Park Centre)
2006 - present
Toronto, Ontario

NAIOP Greater Toronto Chapter Real Estate Excellence (REX) Development of the Year

City of Toronto Urban Design Awards (TUDA) Award of Excellence - Private Buildings in Context – Tall
Ivanhoé Cambridge and Hines has partnered with Metrolinx to secure development approvals for a significant mixed-use office development at 81 and 141 Bay Street, known as CIBC Square formerly Bay Park Centre. In April 2017, CIBC was announced as the new anchor tenant for this development.
The development includes two office towers, including 2.9 million square feet of leasable space connected to Union Station, the City's largest multi-modal transit facility. A new Metrolinx transit terminal will be located in the podium of the first phase at 81 Bay, directly linked to Union Station through new PATH connections. A publicly-accessible open space will bridge the rail corridor, creating the City's first elevated park over the rail corridor.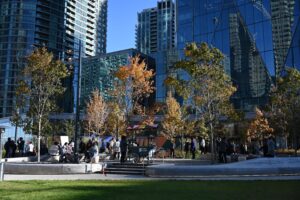 Renderings by Nancy Kim Photography
Urban Strategies has provided master planning and development approvals services to Ivanhoé Cambridge since they initially purchased the site in 2007. Urban Strategies worked closely with Ivanhoé Cambridge and Metrolinx to develop the complex mix of program on site, including coordinating with all levels of government to secure support and to coordinate the project. Urban Strategies undertook a series of due diligence analyses for various components of the property. We also assisted the architecture team with master planning and technical studies to refine the initial development options.
Urban Strategies coordinated the approvals process for the first phase of development. Urban Strategies has also completed the zoning approvals for the second phase at 141 Bay Street, and are also working with the design team in preparation for Phase 2, which will deliver a second major office tower at 141 Bay Street at the north side of the elevated park.
Read more about the project at Urban Toronto.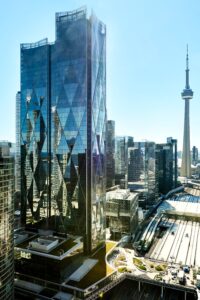 Renderings by Sierra Curtis Photography
Learn more about this development on Youtube.