Princeton University 2026 Campus Plan
2014 - Present
Princeton, New Jersey
Princeton University is one of the oldest and most distinguished colleges in the United States. A world-renowned research university, Princeton sets itself apart with an equal commitment to undergraduate teaching. The University has a significant regional impact as one of its largest private employers and a destination for almost 800,000 annual visitors, generating $2 billion in economic activity. Princeton's main campus includes 9 million square feet of space in 180 buildings spread across 500 acres. In total, the University owns more than 975 acres in Princeton, more than 895 acres in Plainsboro Township, and more than 510 acres in West Windsor Township. The University also has a robust residential system, accommodating 1,000 units of rental housing that total more than 1.2 million square feet. 98% of Princeton undergraduates live on campus.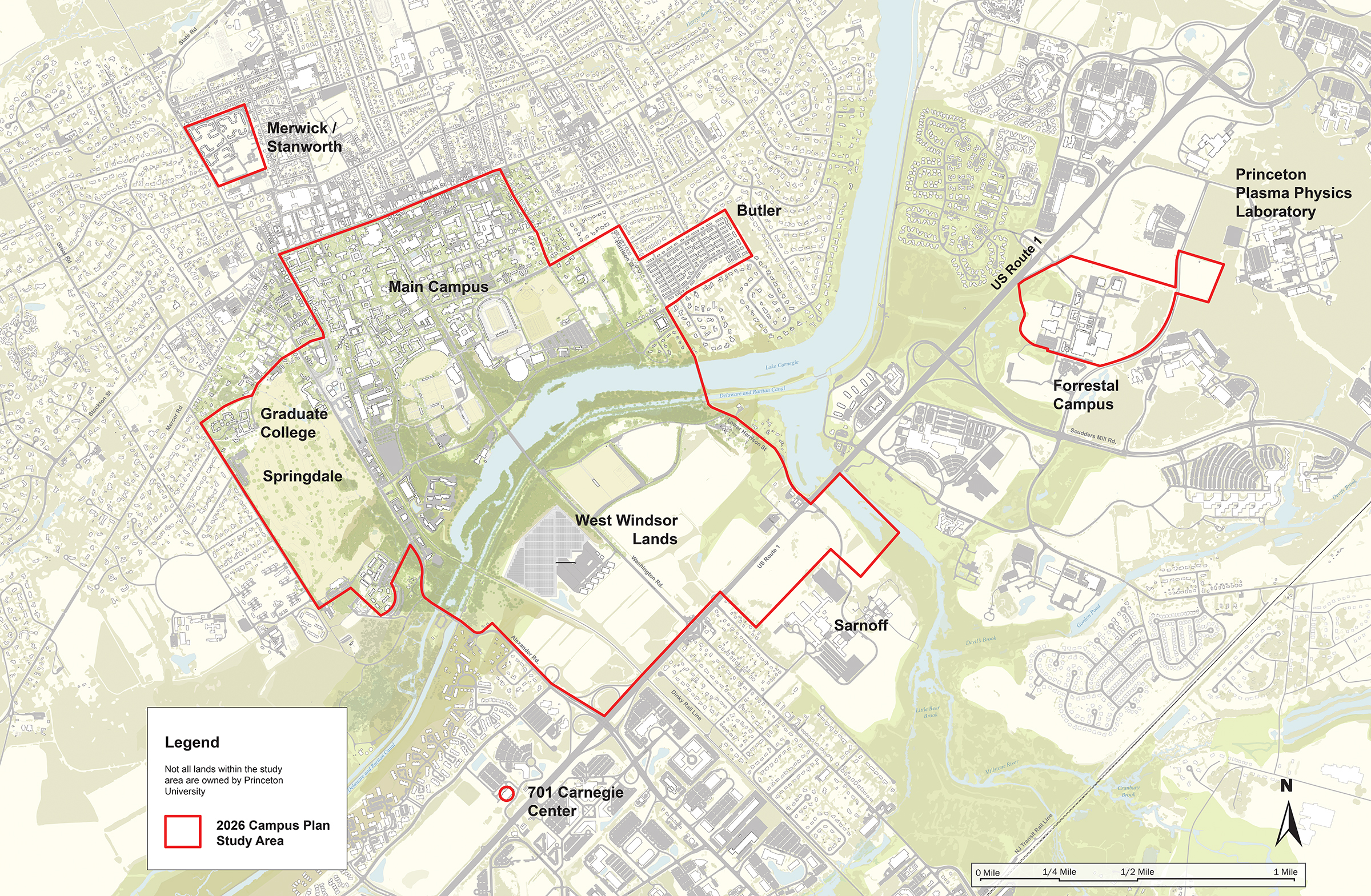 2026 Campus Plan (2014 – Present)
We are leading an international, multi-disciplinary team on the most comprehensive campus planning project ever undertaken at Princeton. The Plan will identify wide-ranging options for campus development on both a 10- and 30-year time horizon. It will be the first plan to consider not only on the main campus, but also lands south of Lake Carnegie and in Princeton, West Windsor, and Plainsboro.
Respecting and celebrating the distinctive history and enduring traditions of the University, the Campus Plan will include strategies for the optimization of land use and campus design; integration of landscape, infrastructure, sustainability, and resilience systems; and an analysis of the critical academic, social, and recreation elements of a successful campus.
Given the expansive scope of the study area and the two time horizons, the Plan will be a flexible framework that presents a diverse slate of opportunities to develop the campus. For some areas, the Plan will provide details for specific development projects in the 10-year planning horizon.
Other areas will receive broader parameters for the type and scale of change that may take place as the University evolves over the 30-year horizon, allowing for flexibility to respond as issues emerge in the future.
The Campus Plan and its associated Integrated Utilities and Information Technology Infrastructure Master Plan are coordinated with the wider institutional planning process, including the University's Strategic Plan and Sustainability Plan update. Consultation is a central part of the process, including the use of online and interactive consultation and mapping using Campus
All photos courtesy of Princeton University, Office of Communications.
For more information, visit the Princeton Campus Plan website and the Princeton Project Blog.
Photo - Princeton University, Office of Communications
---
---