Barbados
1997 - 1998, 2001-2003, 2016 - Present
Barbados
1999 American Society of Landscape Architects Planning Honor Award – The Barbados National Park Plan
1999 Canadian Institute of Planners International Grand Prize for Excellence Environmental Management and Land Use Planning for Sustainable Development
In 2016, Urban Strategies was selected to lead a large team of experts to update to the National Physical Development Plan (PDP) and lead the implementation of the Parks and Open Spaces plan.
Our relationship with Barbados planning began in 1997, when we were retained to undertake an extensive update to the country's National Physical Development Plan (PDP), incorporating comments arising from the legislated consultations on the Plan. The Plan resulted in a completely new growth management and policy framework that addresses contemporary development pressures and issues of sustainability and environmental resource management while remaining accessible to professionals, land owners and the public. The PDP and six Community Plans were based on a comprehensive review of current economic, land use, environmental and infrastructure issues; an extensive public consultation process; and a strategic environmental assessment of three alternative development options. The resulting development framework targets economic and suburban growth to preserve agricultural lands, waterways and island aquifers, reducing the need for desalinization facilities and supporting sustainability goals, while creating new opportunities for tourism and related employment and economic development within the island economy.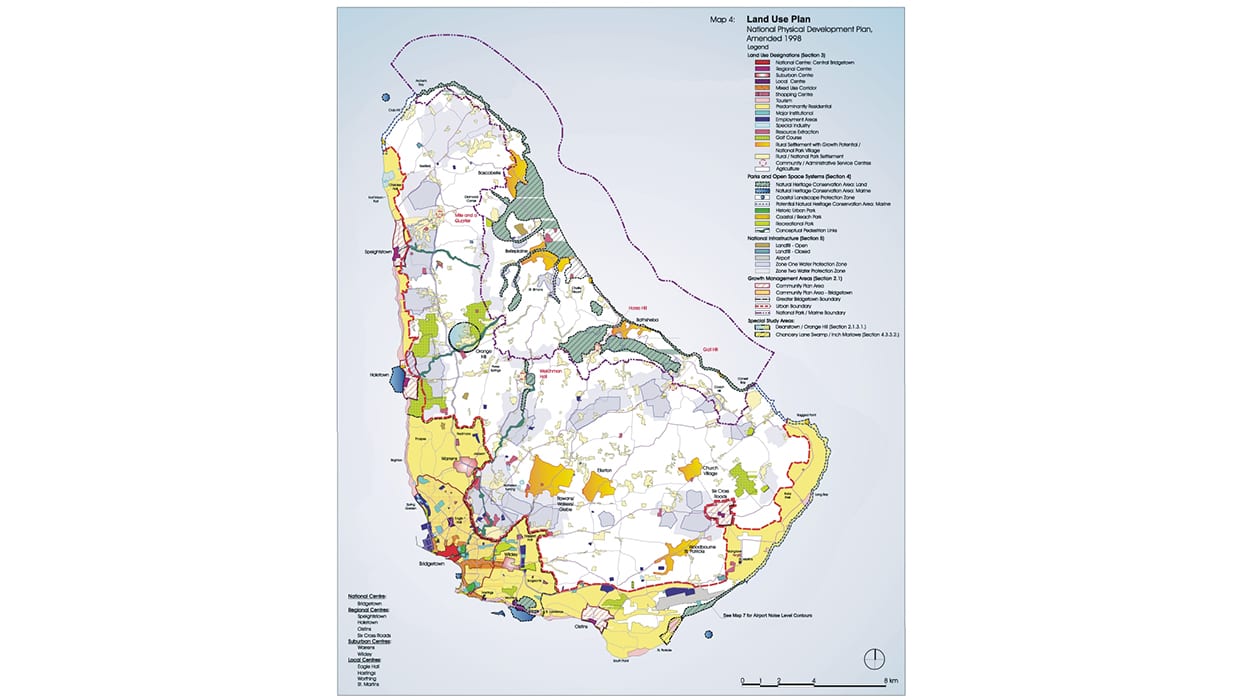 Concurrent with the Physical Development Plan for the Island, Urban Strategies also led a team of British, Caribbean and Canadian consultants in establishing a National Park along the island's east coast, in an area of traditional farming, fishing villages, and fragile ecosystems. The team undertook a complete biophysical, landscape, land use, cultural and economic review of the area prior to determining the appropriate boundaries and land uses for the Park. The project involved creating a National Park Development Plan, Guidelines for the Operation and Management of the Barbados National Park, and a Cost Recovery Plan.
One of the challenges of the National Park is to preserve the area's natural and cultural heritage while recognizing its importance as a human habitat, a place where people live and work, and where much of the island's mining activity is focused. To accomplish these objectives, the National Park Development Plan identifies some 58 development projects, including the Barbados National Park Trail System, Community Improvement Plans for three National Park Villages and the development of five National Park Forest Candidate Sites. Other initiatives included creating new waterfront parks and related local and tourism amenities, establishing restoration strategies for mining and waste disposal sites, and enhancing education and awareness of the importance of the National Park to all Barbados residents and visitors. Many National Park projects build on existing assets and are intended to enhance the ecosystem of the park, provide new opportunities for local economic development and tourism, and serve as a catalyst for future partnerships between local residents, the government, and public and private funding sources.
The Barbados System of Parks and Open Spaces was officially launched on June 1, 2016, as part of the nation's 50th anniversary of independence.
image credit: Flickr - Suw Charman-Anderson
---
---